Each September for the past nine years, St. Augustine, Florida, has hosted the Florida Heritage Book Festival and Writers Conference. Since I'm fortunate to have my lovely, artistic town present this writers conference and book fair, I do my best to attend. I've made it two out of my three years here (couldn't last year, as the hub and I were full-on into our house renos).
Let me give a quickie explanation: The FHBF is both a writers conference and a celebration of books and authors Floridian. It's organized around critique sessions on Thursday, a full day of conference workshops and lectures on Friday and a series of author talks on Saturday.
I decided to attend only the Friday conference this time around. My Saturday was full-up with another FWA meeting (great tips and tools for writing press releases, courtesy of Nancy Quatrano) and more house-y everything. Yep, one year later, and we're still finishing the renos. You know, those whole-house remodels really take some time when you're not working on them full-time. Here's hoping we're done before next September. : )
As many of you know, when I'm not renovating, I'm writing my second adventure-mystery novel, the sequel to Emerald Obsession. I've been struggling with it here and there. Partly from a time perspective, partly from an exhaustion perspective, partly from a distracted-creative-brain perspective. I think many of you can relate; we all have things we like, want or need to do, but we don't necessarily have the bandwidth or energy to do them (or do them well). At least, not as much as we'd like to. The rest of life often disrupts our best intentions: family, work, home, friends … all grab and hold our attention, stealing it from our other endeavors.
Well, that's where a writers conference can help. I've mentioned on a number of occasions how incredibly helpful my critique group is. Well, picture a writers conference as a critique group on crack. Super-charged and offering valuable advice and information.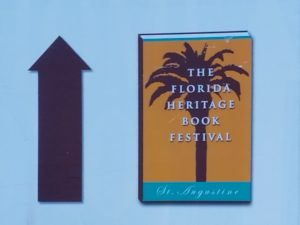 This year's FHBF conference offerings resonated with me, and I knew attending would fire my imagination and rev up my commitment to writing. Several sessions were geared toward: scene development, plot building, and characterization, as well as writing strategies and book marketing. Two presenters I enjoyed for their engaging, entertaining and truly informative presentations were Roy Peter Clark and John Dufresne. So glad I heard them, but sorry I couldn't make the concurrent sessions. So many workshops, so little time. ; )
So, is a writers conference for you? Obviously, I can't make up your mind, but hopefully these few items in a "pro" list will help you decide in favor of attending:
You'll learn so much on a wide range of writing topics. The whole idea of a conference is to share ideas and knowledge. You want to be a better writer? A single conference can cover a huge spectrum of information; it's like one-stop-shopping on both the craft and business of writing. Fabulous!
You'll meet lots of people with the same interests, so networking and sharing ideas can happen almost automatically, even for introverted writer-folks such as we may be.
Being with other artists can energize and inspire you and your writing. Plain and simple.
The experience of a new place can provide excellent writing material. And even a familiar location can come alive when you view it with a new perspective.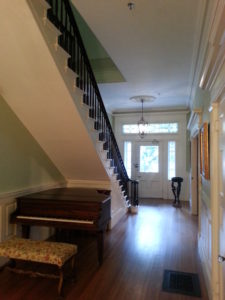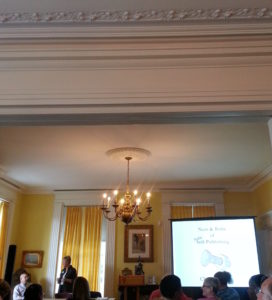 No surprise, there are more factors to consider when deciding. Two important points are location and cost. But something to keep in mind is there are many conferences of varying sizes and across hundreds of locations for you to choose from. You may even find free workshops or seminars to get you started. By the way, don't forget to talk to your accountant, because you may be able to write off your conference expenses.
Here're three good conference listings to get you started: http://writing.shawguides.com/ and http://thewritelife.com/28-fantastic-writers-conferences-authors-bloggers-freelancers/ and https://www.awpwriter.org/wcc/directory_conferences_centers. But be sure to google for yourself, especially based on the type of writing you do. And don't forget to check your local library for info.
Another big thing to consider is what each conference offers. Most present a broad variety of activities to participate in, but among the usual suspects are: focused lectures, keynote speakers, workshops, critique sessions, agent and/or editor appointments, discussion panels, author signings, writing prompt activities and pitch sessions.
With so much fun and thought-provoking stuff going on, you'll wish you could attend every conference. : )
How about you, friends and readers; have you been to a writers conference? If so, which one(s) and what was your favorite takeaway? : ) Please share your experiences in the comment section. I'm looking forward to hearing what you've found helpful.
Thanks for hanging, and don't forget tell your friends about my website, so they can sign up for my newsletter and read all the latest. See you again soon!