Nothing screams "summer blog post" more than a hulking, stone fort, am I right? Suuure. I can see the heads shaking. What you're probably asking yourselves is: What does a fort have to do with writing? Well, let me tell you about that.
I'm always on the hunt for relevant writing-life ideas to blog about, things both useful and personal. I hope you learn something fun and different after reading my posts, that you engage in your own writing or reading in a new way, become inspired to change something in your writing repertoire or habits. See things from a fresh perspective.
So to find ideas, I check out the holiday calendars to see what's going on, I read other author blogs (check out this list for some cool ones, but be warned, some links are out of date), I review Writer's Digest and other online sources for inspiration.
And sometimes I simply walk outside and see what my imagination fires up. In the case of this month's post, "Writing Forts," my inspiration was two-fold: calendar spark and walkabout spark.
One of the many things I love about St. Augustine is its history. One big chunk of that history is the Castillo de San Marcos, a National Park, located at the northeastern edge of historic downtown. With July named as National Park and Recreation Month (the calendar spark), and me so enamored of this massive fortress—also a designated National Monument—I knew I had to blog about it.
Which leads me to spark number two, the walkabout. Because I'm fortunate to have this historic fort in my backyard, I'm free to wander the grounds for inspiration whenever I'm able to go downtown (and able to find parking).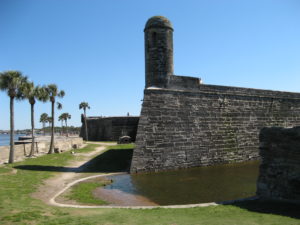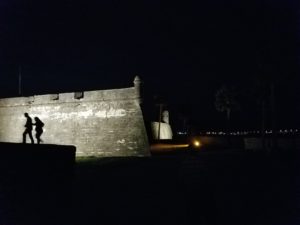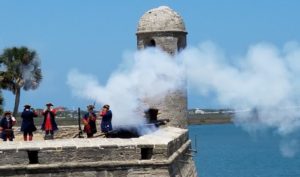 Those of you who've read my previous posts know how much I love being outdoors, love Florida's warm, mostly sunny weather. I carry my notebook everywhere, and I love writing longhand outside. Weather permitting, naturally, but also in the rain. As long as I'm covered and my notebook is dry, I'm good.
Sometimes, writing in the rain is actually better, depending on the scene. A moody, rainy day can be perfect for stalking, murder, surprise attack, even simply an eerie feeling or two. I think you get my point. Writing outside or somehow exposed to the elements, exposed to the ambience of a historic space, imbues my writing with a vitality I can't always capture when sitting at my computer behind a desk and gazing through the window. Kinda like life, you know. Sometimes you have to stop reading and writing about it and go out and live it.
Now, about this fabulous fort. I'm intrigued by history (I'm not a buff, mind you, but forever learning). Those of you who've read Emerald Obsession know that while it's a contemporary mystery, it has its roots in history. The Castillo has survived over 300 years as the oldest masonry fortress in the United States.
Rambling over the fort grounds, reading the educational material the park rangers offer, climbing stone steps to look over the Matanzas River and all the way to the Atlantic Ocean, steeping myself in the environment and knowledge of its age brings the fort's history to life, helps me imagine what living there centuries ago could've been like.
Being able to experience such a unique piece of history firsthand is extraordinary. When I walk through historic places, I feel the weight of time surround me. I feel the lives and deaths of those who passed that way before me. A quiet settles in, respectful and deep. I knew the fort would find its way into my writing somewhere, somehow.
And here's where I get to tease a little info about Treasure Bound, Book Two in my Found Mystery Series. I'm so excited. This story follows up Emerald Obsession to continue Lexy and Jack's treasure hunt, and part of the story takes place in St. Augustine. Surprise, there's also a scene or two set at the fort. Hope I do it justice.
To learn more about the Castillo de San Marcos, click here. It's one of my favorite places in St. Augustine. And don't forget to take your writing outside! You may not have a fort at your disposal, but any outdoor spot will offer a new angle and enliven your writing.
As ever, to weigh in on this or any of my posts, please share, share, share in the comments section, or on social media. You can find me in all the usual places. Thanks again. : )