I'm super stoked to live, write and work in St. Augustine, Florida. I love it here, and I'm happy I finally made the move a few years ago. For those of you who haven't yet, please take a peek at my About page and you'll learn a few details about my journey to this unique place.
While casting around for ideas for this month's blog, I ran through a list of items particular to June: Doughnut Day, Oceans Day, the start of summer, Father's Day, Flag Day and Yoga Day. Whee….ideas everywhere.
But I decided to share something personal and fun, something people often ask me about: my favorite places to write in St. Augustine. Bonus for my friends and fans in Florida, since you guys are able to swing by these spots for a visit. Be on the lookout: you just may find me there, typing or scribbling away. : )
In no particular order, here are my 3 favorites:
1—Crucial Coffee, Cuna and Charlotte Streets, downtown St. Augustine. Check out the pictures, and you'll see why this place speaks to me. Love the environment and the coffee. Two items "crucial" to my success as a writer (yes, I did make that awful joke). Plus, the handy tables make this a good place to bring my laptop.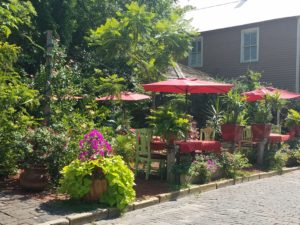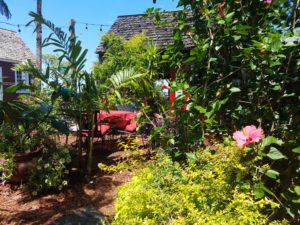 2—Nombre de Dios Mission Grounds, San Marco Avenue, north of downtown. This is where Pedro Menéndez de Avilés landed on September 8, 1565, claiming the land for Spain. Click this link for more information about Nombre de Dios; it's beautiful, historic and very peaceful. And on the bank above the Matanzas River sits a beautiful wooden porch swing, an incredible spot with a gorgeous view that always inspires me. A great place to contemplate and to write.*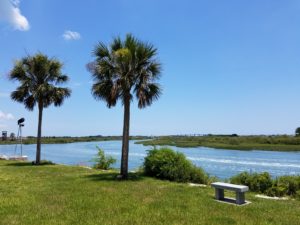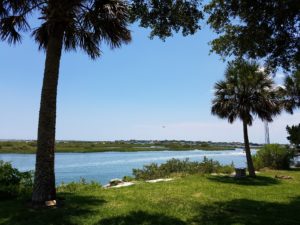 (*Author's Note: Agggh! I went to the Mission Grounds to finish writing this blog and take current photos, and this is what I found:  
Horrors, my porch swing is missing! This happened once before, and I found a groundskeeper who told me the chair had been taken for repairs. I can only hope that's the case this time, too. Jeez, Louise.)
3—The beach, either Vilano (nearer) or St. Augustine (farther), both short car rides away. The beach speaks to me, as it does for many. I don't think I could survive for long without hearing the crash of waves, smelling the salt-tinged air, seeing the colors—sky and ocean—change hues from light to dark. When I bring my trusty notebook there, I leave with meaningful words and a sense of peace. Love, love, love.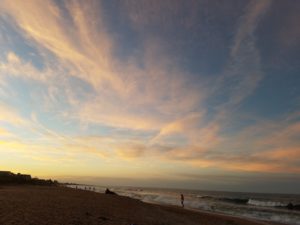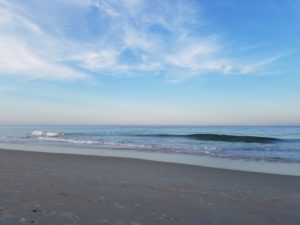 And, of course, I'm me so there's a fourth spot to mention. : )
4—Our beautiful back deck, north of downtown St. Aug (in case you're near enough to visit). The hub and I just finished painting the rails and staining the deck, and look how gorgeous it turned out! Okay, I can't always work outside (bugs, heat, rain, etc), but when I'm able, I love it. Huge props to my sweet for the beautiful creation.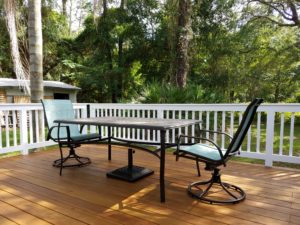 There you have it, everyone. My St. Aug favorite places to scribble, pen, write, type, dictate, ponder, create, compose, jot and bring to life all these words in my head.
I hope you enjoyed a snapshot into my world. It's a great place. Come visit. And consider adding your favorite spots to write, create, work, etc. in the comment section below. Thanks as always. And please be sure to tell your friends to swing by this website for a visit.