This morning, I sat wondering for a few minutes if it's "bad form" to begin a blog post with an addendum. A quick Google search on addendum placement yielded too many unnecessary bits, so I've decided just to go with it.
So here it is: I was supposed to post the following blog over two weeks ago. In the interim, a devastating earthquake ravaged Mexico, Hurricane Maria inundated an already-decimated Puerto Rico, and a gunman slaughtered 58 innocent people in the worst mass shooting in U.S. history.
Some days, I feel so deeply hurt that I hardly know what to do. I certainly don't always feel like writing. And even when I do, the words don't necessarily come out the way I'd like.
With all the madness in the world swirling around, I also had a smaller, though personal, issue to deal with, the poison ivy/oak I mention below. Apparently, I'm severely allergic, so I've spent almost 3 weeks on steroids and dealing with swollen and blistered arms and a rashy body. The drugs gave me woozy head, and sitting down to write or brainstorm yielded nothing good.
Well, I'm slowly returning to the land of my living, and still processing the incredible events of these past weeks, trying to make sense of what I can and trying to keep going in a positive way. I hope you'll take a few more minutes to zip through the rest of my original post below. And I truly hope this finds you well and striving to be happy in this crazy world. Thanks for spending some of your time with me! <3
————-
I'm not sure if Hurricane Irma wiped out all my thoughts and blog ideas in a wild, massive rush of wind, but it sure feels like that tricky witch did something to my brain. Though I can't say exactly how she managed to do so, since I was about 5000 miles away in Europe when she hit my home in Florida.
As happens more often than not, this isn't the blog I'd planned to write. But as circumstances change often and quickly, I usually try to go with the flow. When it comes to writing, that feels most natural and hopefully, therefore, is the best writing I can do.
When Irma blasted the Caribbean and the Southeast, my reaction was different this time than with Matthew last year, because I couldn't return from Europe. I've only been home for one week, and it's been hard to get back into writing.
I want to write again—especially, to work on the edits for Treasure Bound—but I don't have the words yet. My creative brain has disconnected or something. Not a breaking off, but more like a pulling away to process what's happened in the world.
Too overwhelmed with reality? No, that's not it. Reality often overwhelms me ; ) so that's nothing new. (October note: Hah! If only I'd known how much worse things would get. It all feels so unreal still.)
And maybe I'll come back tomorrow to reread this before posting and will feel completely different. Tiredness impacts my creativity, and we've been tired a lot since we began following Irma's antics almost three weeks ago.
Let me back up a moment. You see, my husband and I had planned a relatively last-minute visit to his family in the Czech Republic, and we were due to fly home—to Orlando airport—on September 9. The airline, Irma, and MCO all had other ideas, though.
So, we spent many hours on the phone with various people and places and eventually were able to book a flight home on September 15.
But I have to say, not being here—home—to ride out the storm brought me a different sort of anxiety. It felt strange and wrong not to be here, to be too far away to help, to know if family, friends, home were all right.
So, I guess I'm still sorting through the different levels of emotion and tiredness that've followed me. Though we did enjoy our extra time away, it was more stressful than you'd think, and the travel home kept us awake for almost 26 hours.
In all, though, we're immensely grateful that our friends and family are all right. Things are so much worse for so many, and my heart breaks with the latest news from the Caribbean and Mexico. How truly overwhelming.
So from my perspective, the few more downed trees we had, though sad to see and to lose, are merely proof that far greater things than us exist. It's a process, though, dealing with the changes and problems. I don't downshift that quickly, unfortunately.
A small segue: I do have to sneak in a photo or two of our yard here, because Lou and I could hardly believe what had happened on the rear of our property. A huge tree with water-logged roots toppled, ripping up a chunk of ground. Check out this mass of dirt and roots!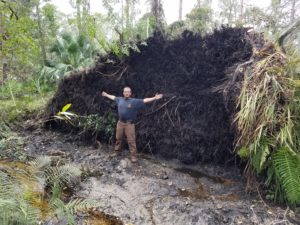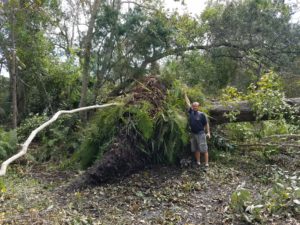 Fortunately, when he cut the tree apart, the stump rose and the dirt/roots have settled back into position. But I wonder how long that'll last.
The almost-week's-worth of jungle clean-up did leave me with one other present: a nasty occurrence of poison something-or-other, worse than last year, it feels. So, just add steroiding myself to the list of "out there" feelings, and I think we've got the lack-of-writing issue mostly clarified.
Anyhoo…maybe writing this blog will help get my head on straight. Though I did write some on vacation, it was without regularity and not often. Me falling off the writing wagon is not pretty, as it takes several ugly attempts before I can claw my way up again. Think I'm finally getting there, though. I hope.  : )
And here's a nice ending to this post: the birds are coming back. A blue jay streaked by the window and nestled in the pine tree. And a pretty bright-red cardinal just landed on the orange tree outside, perched amid the yellow-lime fruits, which I hope survive till ripeness.
Happiness, seeing that flash of crimson and imperious crown, since I think of angels when I see cardinals. And I have a few special guardians I know are looking out for me and my hub, through all the madness this world can throw at us. <3 Stay strong.