I love when people visit my About page. Thanks for taking time to uncover a few facts about the wacky woman my parents named Carolyn because I was born in December, and they liked how "Christmas Carolyn" sounded.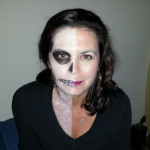 For starters, I'm not only wacky. I just happen to love Hallowe'en, hence the photo. But like pretty much everyone on this beautiful planet, I'm comprised of many facets which have impacted my growth and played significant roles in fashioning me. I've been lots of different things to different people, I've lived in a few incredible places, I've experienced my share of heart-wrenching awfulness, I've traveled to some breathtakingly stunning locales, I've made a couple of calculatedly risky decisions, I've known and loved an amazing group of family and friends and been fortunate to know their love in return.
I also have a crazy-active imagination. Which is a great thing when you write stories, a less-than-great thing when you're a worrier who can envision 479,386 ways your loved one can get hurt doing the most mundane tasks. But I digress ….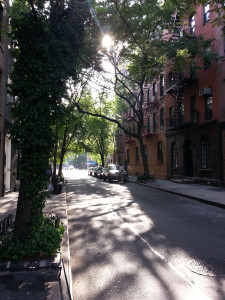 After years as an advertising professional living in the West Village of Manhattan, the best NYC neighborhood as far as this biased, native New Yorker is concerned, I decided the time had come to vacate the city for somewhere more in line with my current state of thinking. A move south suited me just fine, and now I call Saint Augustine, Florida home.
Best decision ever. And at the time, scariest decision. Thank goodness I rode the wave all the way in.
St. Aug hugs you in greeting and sinks into your soul. I can't imagine feeling more welcome in a new place than I did when I arrived here in 2013. The move became the first of many changes, few of which I could've predicted, but all of which I'm grateful for, despite the inevitable hiccups.
Now here I am publishing my first mystery novel and living near the beach in a community of friendly, supportive people, writers, artists. I met and married the only man I've ever loved, my husband, Luboš. And I live a slower, warmer, lifestyle where I have a porch to sit outside and write. Every day.
So many dreams have come true. I pinch myself sometimes.
I'm beyond thankful for this incredible life I'm creating. And so happy I had the strength and support to make this move. It hasn't been the easiest path, but I've learned the effort is worth it. And making one change, however big or small, opens the way to other choices and the biggest rewards. I'm finding my relevance.
I'd love you to stay a while, read some of my blogs here, find out more about me and share your experiences, stories, joys and challenges. Thank you so much for visiting.